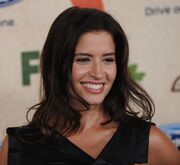 Mercedes Masohn
(born
Mercedes Masöhn
; March 3, 1982
[1]
in
Linköping
,
Sweden
) is an American actress known for playing the role of
Zondra
in the American television series
Chuck
and the role of Isabel Zambada
[2]
[3]
in the American
procedural drama
The Finder
.
[4]
She starred in the 2011 American
horror film
Quarantine 2: Terminal
.
The Finder premiered on January 12, 2012 at 9/8c pm on FOX.[5]
In 2012 she will co-star on the upcoming ABC supernatural drama series 666 Park Ave.[6][7]
Personal life
Edit
She moved to the United States from Sweden with her family at the age of twelve. Masohn lives in Los Angeles with her dog, Wedgie.[8]
Filmography
Edit
Television
Edit
| Year | Title | Role | Notes |
| --- | --- | --- | --- |
| 2005-2006 | One Life to Live | Neely / Red Cross Nurse | 3 episodes |
| 2008 | Entourage | Kara | 1 episode: "Return to Queens Blvd" |
| 2009 | The Closer | Katherine Ortega | 1 episode: "Blood Money" |
| 2009 | NCIS | Police Officer Heather Kincaid | 1 episode: "Truth or Consequences" |
| 2009 | CSI: New York | Frankie Tyler | 1 episode: "It Happened to Me" |
| 2009-2010 | Three Rivers | Vanessa | 4 episodes |
| 2010 | Castle | Marina Casillas | 1 episode: "He's Dead, She's Dead" |
| 2011 | Traffic Light | Sherry | 1 episode: Pilot |
| 2011 | Chuck | Zondra | 2 episodes |
| 2012 | Common Law | Ellen | 1 episodes |
| 2012 | The Finder | Deputy U.S. Marshal Isabel Zambada | Lead role |
References
Edit
External links
Edit