Swing and a Miss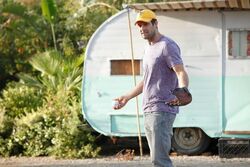 | | |
| --- | --- |
| Broadcast Date | February 2, 2012 |
Chronological Information
Baseball star pitcher Frank Haywood hires Walter to retrieve his stolen sports bag. Walter, who only accepted as a favor to Deputy U.S. Marshal Isabel Zambada, senses the crucial item isn't even on the content list, nor of monetary value, but embarrassingly superstitious. Setting out for the prized trinket, he seeks suspects and motives among rivals and gamblers, braving the grim, unrelated Twins and an illegal betting club.
Main Cast
Edit
Guest Cast
Edit
Frank Haywood - Lance Gross
Bobby the Twin - Jake Busey
Tyson the Twin - Amad Jackson
O'Malley - Mike Bradecich
Marty Nix - Chris J. Johnson
Barry Verlinger - Rick Zieff
Bouncer - Gregor Manns
Waitress - Rachel Ann Mullins
Miami-Dade Detective - Andres Perez-Molina
Bobby the Twin - Ignacio Serricchio
Featured Music
Edit
External Links
Edit
Ad blocker interference detected!
Wikia is a free-to-use site that makes money from advertising. We have a modified experience for viewers using ad blockers

Wikia is not accessible if you've made further modifications. Remove the custom ad blocker rule(s) and the page will load as expected.